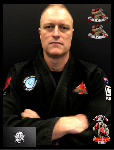 Date Began Martial Arts: 1993
Aaron Johnston is a Black Dragon Kai Senior Instructor. He began his martial art training in 1993. Aaron has always been heavily focused on skills related to personal security, military close combat, and integration of traditional arts to enhance combat resilience. Recently retired from the Australian Regular Army, Aaron has had a long military career including deployments to East Timor, Iraq, and Afghanistan. He is a former member of the 2nd Commando Regiment and a qualified Special Forces Close Quarter Fighting Supervisor. He has also held additional roles as the Australian Army Combative Sergeant Major of the 7th Combat Brigade Combative Centre, Vice President of the ADF Martial Arts Association and President of the Integrated Combat Club Brisbane.
Aaron was awarded the Conspicuous Service Medal (CSM) in the Australia Day 2022 Honours List. This award was in recognition of his meritorious devotion to duty as the Senior Instructor and Subject Matter Expert Army Combative, Headquarters 7th Combat Brigade.
Aaron holds a Master of Philosophy focusing on Training Development and Design and is the conceptual designer of the Point of Impact Training philosophy. Aaron's continuing research focuses on immersive training, instruction, and coaching integration along with the development of empirical evaluation metrics. Aaron's work research formed the training framework of the Enhanced Australian Army Combative Program Training Curriculum that is now being applied across several disciplines. Aaron is also the lead author of Point of Impact: Training for the real world - release date pending.
Martial Arts Ranks
Red/White Belt - ACP IC CSM
Red/White Belt - Kinetic Fighting IC
1st Degree Black Belt - Freestyle Martial Arts
1st Degree Black Belt - Kwon Bop Do (Taekwondo)
1st Degree Black Belt - Jissen Budo
Black Belt - Brazilian Jiu Jitsu (Professor)
Black Belt - Kokusai Budo Kai
Instructor and Coaching Levels
Special Forces Close Quarter Fighting Supervisor
Army Combative Program Level 1, 2, 3 Instructor
Level 2 NCAS Australian Jujitsu Federation Coaching Course
KEF IC Instructor Course
Qualifications
Master of Philosophy Training Development and Design
Diploma of Leadership (Army)
Cert IV Fitness
Cert III Fitness
First Aid Certificate
Working with Children Blue Card
Awards
Conspicuous Service Medal (CSM)
Silver Kai
Affiliations
Unspoken Edge Pty Ltd
Kinetic Fighting Pty Ltd
EL Matador Martial Arts Academy Instructor
Former President of Integrated Combat Club (Army)
Former member Australian Defence Force Martial Arts Association
Veteran Grappling Instructor
Member of the Australian Jujitsu Federation
Instructor at
Veterans Grappling