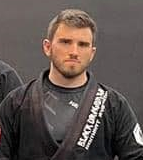 Year Began Martial Arts: 1993
James Nunn is a lifelong martial artist and dedicated instructor. With over a decade in the fitness industry as a personal trainer and strength coach coupled with multiple black belts he know how to get the most out of the students he teaches.
Currently teaching BJJ at Unleashed Combatives in Ipswich, James is helping train the next generation of martial artists, while still training weekly himself.
Martial Arts Ranks
3rd Degree - ABK Muay Thai - Kru (Trainer)
2nd Degree Black Belt - Taekwondo (Moon Lee)
1st Degree Black Belt - Bushikai
1st Degree Black Belt - Jissen Budo - Sempai
Black Belt - Brazilian Jiu Jitsu - Professor
Grey Belt - Kinetic Fighting KEFIC - Instructor
Qualifications
Cert IV in Fitness
Cert III in Fitness
Poliquin Bio-Signature Practitioner
Poliquin Level 1 2 Strength Coach
Poliquin Program Design
Senior First Aid Certificate
Working with Children - Blue Card
Awards
Black Dragon Kai Instructor
Accomplishments
Competes in
Instructor at
Ipswich