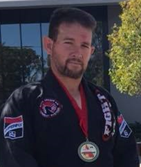 Date Began Martial Arts: 1985
Peter is an Assistant Instuctor at Black Dragon Kai Molendinar. He began his martial arts career with Budokan Karate and then in the late 90's and early 2000's continued with the US Marine Corps Program. Peter has trained in nearly every style that Black Dragon Kai has on offer and is a wealth of knowledge, which he shares with the students in his club.
Martial Arts Ranks
Provisional 3rd Khan - Muay Thai - Kru
Advanced 2nd Degree Black Belt - Modern Martial Arts - Kyosei
1st Degree Black Belt - Arnis/Eskrima/Kali
Black Belt - Freestyle Martial Arts
1st Degree Purple Belt - Brazilian Jiu Jitsu
Brown Belt - Budokan Karate
Qualifications
Senior First Aid Certificate
Working with Children - Blue Card
Level 1 Asada Certificate
Level 2 Asada Certificate
Awards
2015 BDK Nerang Martial Arts Student of the Year
2016 BDK Nerang Competitor of the Year
2017 BDK Nerang Perseverance Award
2018 BDK Nerang Supporter of the Year
2019 BDK Nerang Brazilian Jiu Jitsu Student of the Year
2020 BDK Nerang Leadership Award
1987 Budokan Most Consistent Effort
Silver Kai
Accomplishments
Competed in...
Karate
Brazilian Jiu Jitsu
BRAZILIAN JIU JITSU
AFBJJ Queensland State Champion
QBJJC South East Queensland Champion
Assistant Instructor at...